Urban Waters Voices: Edwin Revell
---
Village Creek Mission Statement

To improve the Village Creek Environment for its entire length of 44 miles to benefit over 300,000 or more residence, businesses, schools, and churches in its watershed.

---
Mission Categories

Restoration
Education
Advocacy
Economic Development

---
History of Village Creek Society

Village Creek Human and Environmental Justice Society, Inc. (VCS) started as Coalition #1 in the 1980's followed by Coalition #2 in 1996 to address extensive flooding in our minority populated communities in the Village Creek Watershed. The Army Corps of Engineers many studies did not make attempts to "stop" the flooding nor to "upgrade" the quality of the industrial polluted waters that once, in early Birmingham, severed as its drinking water and then became the water that brought the "magic" and "money economy" to Jefferson County. But human justice was overlooked and VCS has worked and is still working to improve the quality of life in the 3 sections of the 44 mile watershed:

Headwater Section: From Roebuck to East Lake

Mid Section: From North Birmingham to Ensley/South Pratt to Mulga

Lower Section: From Bayview to Black Warrior River

Village Creek has given so much to the people of Birmingham and Jefferson County. The families that moved into the Village Creek watershed in the 1920's, to become a part of the City's legacy are forever a part of this history.
---
VCS Executive Board
Dr. Mable B. Anderson - Founder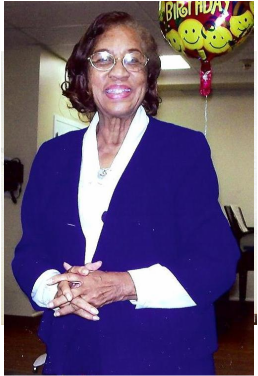 Dr.Anderson, serves as the Founding member of VCS. She was assisted in organizing VCS to consolidate the various organizations working to support Village Creek in 1983. Being a born and returning resident of the Village Creek Watershed, Dr. Anderson has worked tirelessly to improve the environment of Village Creek. Dr. Anderson's many past and present titles include: Vice President of Ensley Neighborhood, Organizer of the Citizen Coalition of Village Creek, Chairperson of the following: Ensley Moro Park/South Pratt Flood Coalition, Village Creek Flood Plain Relocation Committee and Village Creek Environmental Protection Agency (EPA).

She holds a Doctorial Degree in Developmental Psychology, a Masters Degree in Supervision, Bachelors Degree in Sociology, a Certified Woman Executive and is a Verified Developmental Education Specialist to name a few. She has been the keynote speaker and presented workshops in over half of the United States, Puerto Rico and Australia. Some of her honors include Academic Scholarships for all degrees, membership in four National Honor Societies, 1999 NAACP Woman of the Year and Unsung Heros of 2000.


---
Richard S. Woodruff P.E., P.E.P.L.S. -
Technical Director and Director of Finances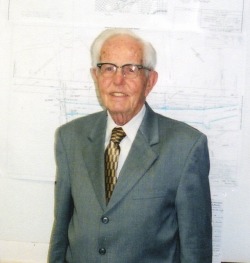 Mr. Richard S. Woodruff is the Technical Director of VCS. Mr. Woodruff is a civil engineer and has worked for Alabama Power Company, Bechtel-McComb Aircraft Corporation Southern Company Services, Inc., and currently serves as a Consulting Hydroelectric Engineer at Hendon Engineering Associates. Among the many major projects that Mr. Woodruff has assisted in planning, designing and operating: Martin Dam Hydroelectric Plant, Logan Martin 128NW, Weiss 88MW, Bouldin 225MW, Henry 73MW, Lay 177MW, Smith 158, Holt 40MN, Bankhead 40MW all for Alabama Power and many others. He has served as an expert witness in eight lawsuits relating to water problems.

The Alabama Section of American Society of Civil Engineers presented him with the Distinguished Service Award and he has also received the ASCE Rickey Medal. Through the years some of his affiliations include U.S. Committee on Large Dams, Chairman of ASCE Committee on Hydroelectric Power Project Planning and Design, Director of Alabama Section ASCE, Professional Engineers of Alabama and many others. He has to his credit several publication.
---
Judge Patricia Stephens - President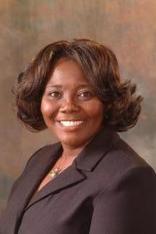 Patricia Stephens is a Circuit Judge in Jefferson County, Alabama where she hears Domestic Relations cases. Prior to taking the bench, she worked for a general practice law firm where she represented litigants in criminal defense, civil, family law and personal injury cases in Municipal, District and Circuit Court and the United States Northern District Court of Alabama. Judge Stephens also served in the Jefferson County District Attorney's office for nearly ten years. As a senior trial attorney, she was often assigned the more difficult cases - capital murders, murders, and child sex abuse cases. Preceding her legal career, Patricia was employed by Alabama Power for sixteen years.

While working full time she attended Miles Law School in the evenings and graduated cum laude. Patricia is a first generation college graduate, having received a B. A. in Psychology from Auburn University. Judge Stephens is the mother of two adult sons, Terry and Michael. She is a member of Liberty Missionary Baptist Church where she serves as a Church Trustee. She is an active community volunteer with PAV (Parents Against Violence), Village Creek Human and Environmental Justice Society, Pratt City Red Ribbon Committee, National Congress of Black Women (NCBW), United Fellowship Breakfast Forum and Grace House Ministries Auxiliary Board. Ms. Stephens was proud to receive the NAACP Woman on the Move Award n 2010 and to be honored as one of the "Top 40 Women of Influence in Birmingham" in 2012 .

She is a former Chalkville Department of Youth Services Advisory Board member and a former member of the Walker County Bar Association. Her professional affiliations include, Alabama State Bar Association, Birmingham Bar Association, Magic City Bar Association, The Inns of Court and the Alabama Association of Circuit Judges. She presently services as President Elect for Village Creek Human and Environmental Justice Society, Inc.
---
Attorney Monica Austin-Hatcher - Vice President / Foundation Director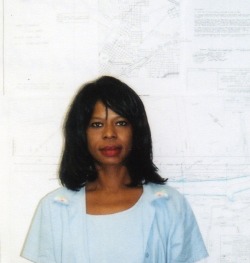 Mrs. Hatcher is in private law practice in Birmingham, she has worked as a Resident Selection Specialist for The Housing Authority, Birmingham District. She has also been a Re-certification Specialist and Clerk with The Housing Authority. During her employment she has achieved maximum growth in the issuing of housing vouchers for all Section Eight programs. She has also maintained accountablility of available funding for the Section Eight Program of the Housing Authority of the Birmingham District. She has accelerated the leasing process by implementing strategies and motivational processes for the Resident Selection Staff. Mrs. Hatcher identified and revised serious flaws in the initial housing process. She worked as a liaison to officials and has successfully worked with property owners to identify problems with leasing agreements and restructed contracts for maximum lease up.

She has a J.D. Degree from Birmingham School of Law and a B.A. from Mount Holyoke College.
---
Natasha S. Diming - Secretary / Financial Manager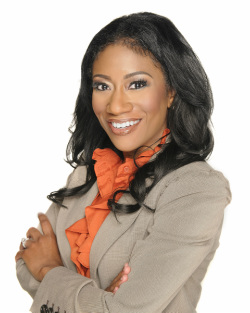 Assistant Branch Manager at Regions Bank

Supervises all branch operations in the absense of the branch manager. Assist with weekly sales and service huddles to porivde; direction, communicating branches best practice and celebrate staff success. Ensure compliance, audit, and security procedures are adhered to at branch location. Tracking and reporting weekly sales outcomes of all products, services, and referral categories (review progress with Branch Manager).
---
Miyoshi Banks - Assistant Secretary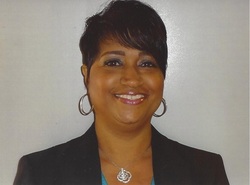 Miyoshi Banks works in Customer Service at The Birmingham Water Works Board. She has over 21 years of Customer Service and Management experience. Prior to her employment with Birmingham Water Works Board, she worked at Alabama Power Company in various positions. Ms. Banks obtained a B.S. degree in Business Management with a concentration in Human Resources from Faulkner University.

She is the Assistant Secretary of Village Creek Human Environmental Justice Society Executive Board.

She has served as First Vice President of PSTA at Hill View Elementary School and Allocations Team for United Way. She is a member of the Church of the Highlands and serves in the ministry.

Ms. Banks has three children: Chantese Danielle Morris (deceased), Fatimah Morris and Devon Morris. She has three grandchildren, two boys and one girl. Ms. Banks says that she enjoys spending time with her family and friends.

---
Mr. Brian Ruggs - Outdoor Science Laboratory Director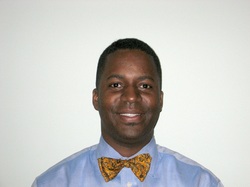 Brian Ruggs has vast experience as a water resources engineer delivering stormwater and flood plain management services to a multiplicity of clients with a concentration on regulatory tools and compliance solutions. Mr. Ruggs has developed watershed protection plans and programs designed to control pollution from stormwater runoff and point source dischargers. He has been involved in hazard mitigation projects including the development of engineered solutions and property acquisitions. Brian has a broad range of knowledge in the areas of regulatory compliance, monitoring, reporting, and operations and maintenance document development for municipal wastewater collection systems and municipal separate stormwater sewer systems (MS4). Ruggs has overseen and managed projects such as MS4 program development, watershed protection planning, and the development of plans and designs for stream modification projects. He communicates well with project delivery teams and clients to ensure the needs of the clients are met in a quality manner in order to sustain a healthy consultant-client partnership.

It is Mr. Ruggs' mission to become an executive in a leading civil and environmental engineering firm and to be recognized as an industry leader in the water resources community locally, regionally and nationally.

Mr. Ruggs is an ordained Elder in the Full Gospel Church and an active member of Kappa Alpha Psi. He is the proud husband of the former Kina King and father of two sons, Bryson and Kingston.
---
John C. Meehan - Field Director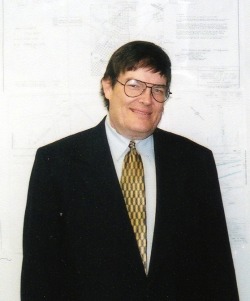 Mr. Meehan assisted Dr. Mable Anderson in consolidating various organizations to form VCS and currently serves as a Field Director. Mr. Meehan has served as both President and Vice President of the Ensley Neighbor Association. He has been Secretary of Neighborhood Services Inc., Chief Inspector of Ensley Recreation Center Votin, Campaign Manager for Jefferson County Public Service Commission candidate and 2nd Vice President of Ensley Moro Park Flood Coalition. He sponsored the first Community Wide Environmental Justice Conference and is the Founder of First Presidential Western Area Democratic Club.

Mr. Meehan is a member of St. Mary's Catholic Church where he serves as the Chair of several committees. He ahs also served with The Office of Black Ministry Board of Directors, Greater Birmingham Ministries and Alabama Arise. He holds awards and honors as Outstanding Young Men of America, Yellow Dog Democrat, Ensley Moro Awards. He attended Ensley High School, Jefferson State Junior College and University of Alabama at Birmingham (UAB). He is employed with Pinkerton and Securities.
---
John Gordon, P.E. - Executive Board Member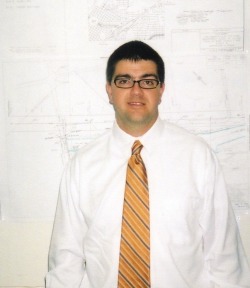 Mr. Gordon has ten years of design experience on projects in Tennessee, Kentucky, Mississippi, and Georgia. Most of the projects have involved land development, specifically site design, subdivision design, and roadway design. The variety of challenges found in land development has allowed Mr. Gordon to develop a divers range of experience.

At Wiser Company, Mr. Gordon provided design for projects including greenway trails, roadway improvements, parks, and utility relocations. He also developed corridor studies for roadway and trail projects and prepared interchange justification studies for state review.
(Not attending meetings at this time.)
---
---
VCS Advisory Board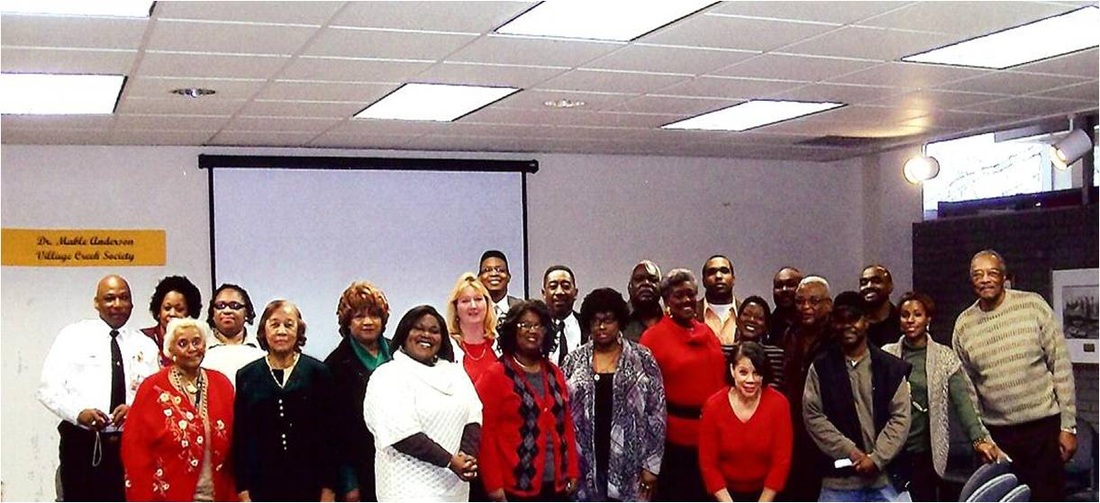 Dr. Mable B. Anderson - VCS Founder

Mr. Leroy Bandy - President Central Pratt

Mr. Andre' Bittas - Director Planning, Engineering, & Permits
Mrs. Autherine Bruister - District Supervisor

Mrs. Angene Coleman - Olivia's House

Mr. Richard Harris - South Pratt Neighborhood

Mr. Philip Hayden - Volunteer Field Assistant

Mrs. Rita Johnson - Public Works Department

Mr. Jerry Jones - Arcadis

Mr. George A. McCall - Ensley Neighborhood

Mr. John C. Meehan - Field Director

Mr. Stanley Jackson - Director, Birmingham Park & Recreation, City

Deputy Kaye Oden - Horticulture Deputy Director

Ms. Denise Pruitt Bell - Project Planner for Flood Plain Management Program

Mr. Malik Rashid - Department of Public Works

Mr. Edwin Revell - Deputy Director

Mr. Jonathan Shorts - Principal Administrative Analyst Environmental Services Department Jefferson County

Mr. Mack J. Smith - Public Works Department
Mrs. Helen Toney - Secretary
Mrs. Felicia Watkins Mearon - Community Liasion, Birmingham Police Department
Mr. James Watts - Diocese of Birmingham
Mr. Richard S. Woodruff - Technical Director & Director of Finance
Mr. Brian Ruggs - Arcadis
Cheif William Fields - Birmingham Fire & Rescue Services (Honorary Member)
Chief A.C. Roper - City Police Chief (Honorary Member)
Mr. Victor Blackledge - Deputy Director Planning & Design
Attorney Charles Henderson, Esq. - Attorney at Law
Mr. Yohance Owens - Executive Director
Battalion Chief Roosevelt Coar - Birmingham Fire and Rescue Service
Captain James Blanton - Birmingham Police Dept Western Precinct, Ensley
Mr. Direcus Cooper - Storm Water Management
Mrs. Lillie Files - Vice President South Pratt Neighborhood
Mr. Carence Ford - President of North Pratt Neighborhood
Fire Chief Charles E. Gordon - Birmingham Fire & Rescue Server Chief (Honorary Member)
Mr. Christopher Hare - Manager East Ensley Library
Mr. Fred Hawkins - Civil Engineer City of Birmingham
Mr. Cedric Hill - District Supervisor at Public Works Department
Mr. Perry McMiller - Ensley Neighborhood
Mr. Thomas H. Miller - Storm Water Administrator
Ms. Brenda Ragland - South Pratt Neighborhood
Ms. Lisa Tharpe - Public Safety Dispatcher
Mr. Michael E. Woodruff - Member
---
VCS Facts

Obtaining funds to complete Village Creek Flood Control Projects
Removing the Creek Banks from the Village Creek Waters.
Stabilizing the Creek Banks with Gabion Walls.
The Construction of the Creek Bank Walking and Jogging Trail.
Annual Fall Clean Up with Renew Our Rivers.
Annual Spring Clean Up with High School Leadership.
The construction of the Learning Recreation Park.
Engineering plans for Tour Sites for the Roebuck Springs and the Endangered Darter Fish at the Headwater Section of Village Creek in Roebuck.
Plans for a Canoe Education site in the Village Creek Watershed at the Lower Section of Village Creek.
City/County Marker and National Historical Registry for the First Baptist Church of Ensley.
---
Village Creek Water Shed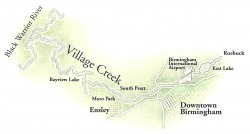 Village Creek has a wonderful story to tell.... it was, and still is, the only notable stream in the Jefferson County area. Village Creek was the first source of drinking water for the residents in the City of Birmingham. Alabama's first coal operations are recorded to have happened along the banks of Village Creek in the 1820's

From atop Red Mountain, James T. Milner, a rail road engineer, had a vision for the lovely valley as he sat on his horse. He purchased seven thousand acres along the Village Creek Watershed and this vision became the City of Birmingham, January 26, 1871.

The rich deposits of coal, iron ore and other raw materials used to make iron and steel were discovered within a thirty-mile radius of Birmingham. The key element for his process was water. Village Creek then evolved as a drinking water source to a key element in iron and steel production, propelling Birmingham into the international steel industry. Birmingham's first steel production took place in the Thomas Community, along the banks of Village Creek.

Families moved into the Village Creek Watershed in the 1920's. Social stratification determined the locations where racial groups could buy property and build their homes to raise their families. People of color bought in the Moro Park Ensley and South Pratt areas at or near the Village Creek banks. They were unaware that flooding occurred and would invade their homes as much as four to eight feet. Since relocation was not a choice at this period in history, families raised their homes, worked with each other to clean the water ways and blasted the creek. Popular social activities included family fun, church and school. Education was a major focus for families, neighbors, and schools. It was like a family village within a village. Manners were required. Sex typing and sex role identification were modeled. There were distinct roles, dress and activities for boys and girls.

The church was the hub for family activities. Yearly revivals, Sunday school, Summer Bible School, choir rehearsal, church plays, fish fries were the sources of enculturation. All families had beautiful gardens, fruit trees, grape arbors. Chickens were raised to broiler size and placed in the freezer. No one ever went hungry and children had responsibilities and chores. Every child received positive family and neighborhood reinforcement.


Racial groups attended separate schools but teachers focused on the academics for the child as an individual learner and used discipline with parent reinforcement. Children valued school. Many left the area for higher learning in states that accepted different racial groups. Some returned home well educated as teachers, nurses, a few doctors and lawyers as young adults but most went to positions in other states.

Many of the Birmingham leaders today grew up in the Village Creek Watershed environment. It is to this history that we owe the responsibility to do our part and become stewards of this great watershed.

---
---